Simple
Columbo collects all relevant tracking information on your website with very little configuration
Quick
Tracking errors and failures are easily and quickly detected
Detailed
Columbo can analyse and monitor complicated tracking setups as well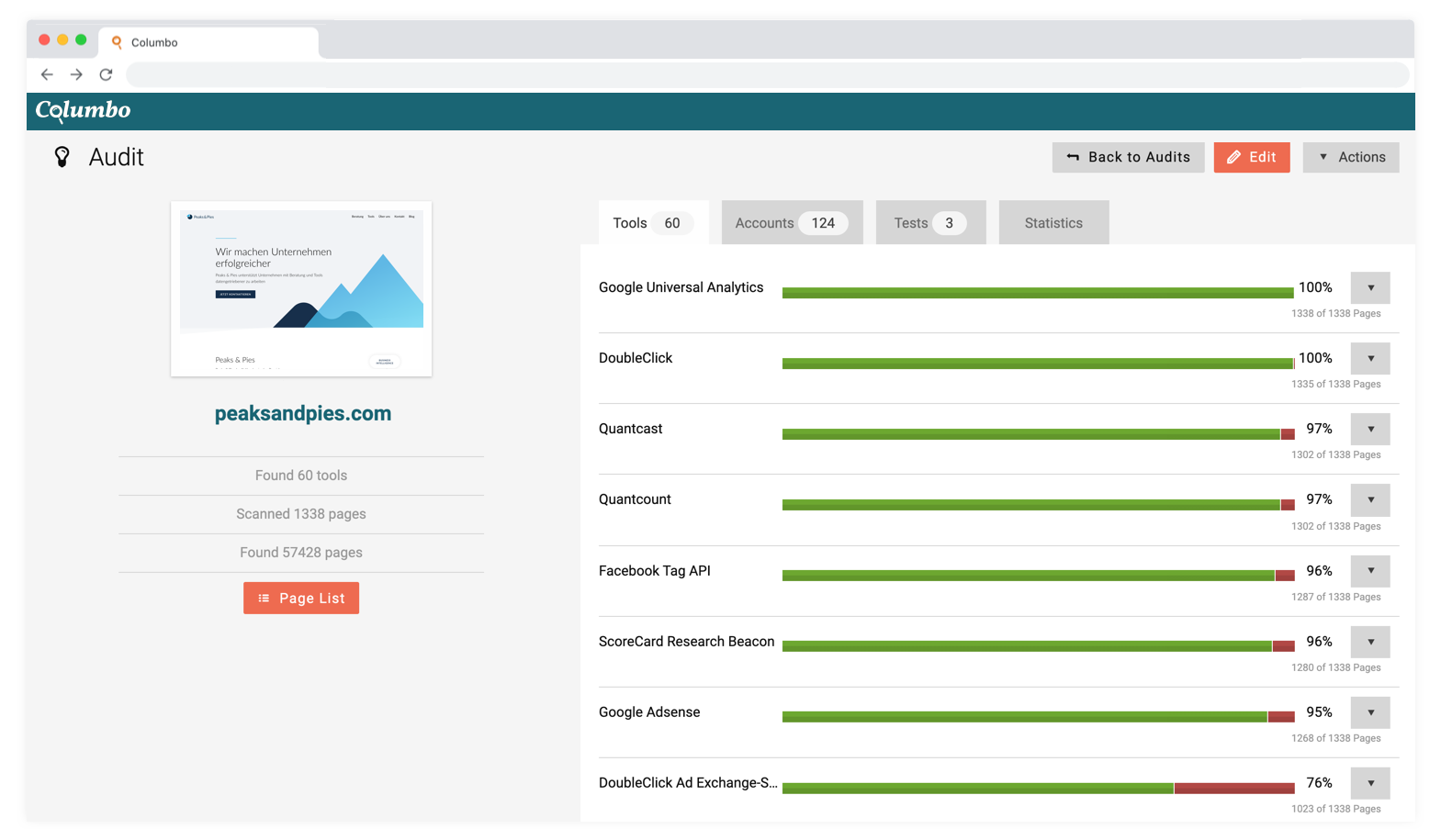 Get a Complete Picture of Your Website
Which Third-Party Tools are active?
How Fast is your Website?
Is your Website secure for your Visitors?
Protect Your Users' Security and Privacy as much as your Business
Make sure all Pages of Your Website comply with todays security and privacy best practices
Columbo finds loopholes and helps you make your Website less vulnarable
Manually checking your entire Website is impossible — Columbo does it automatically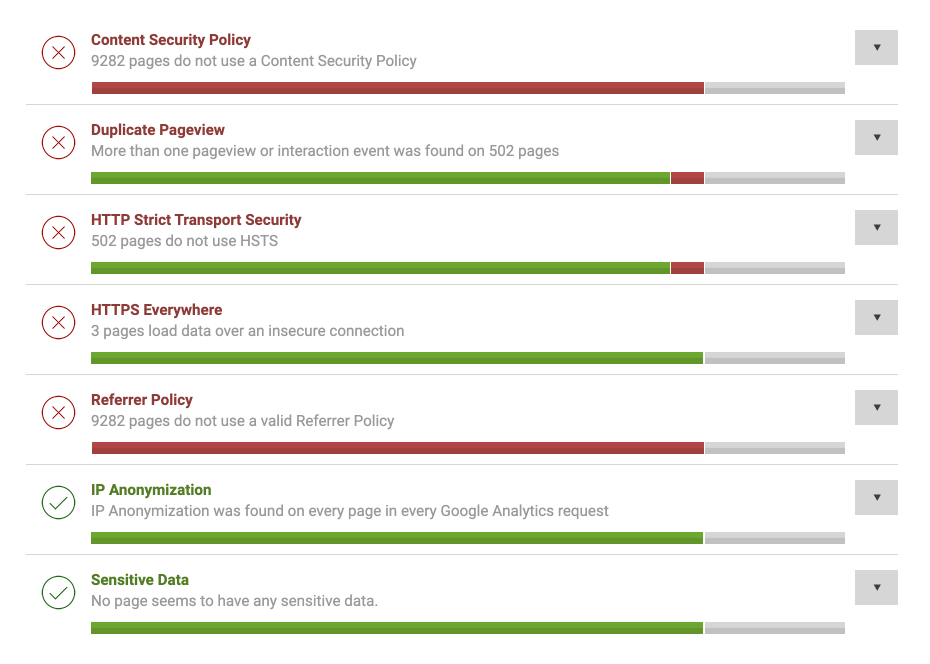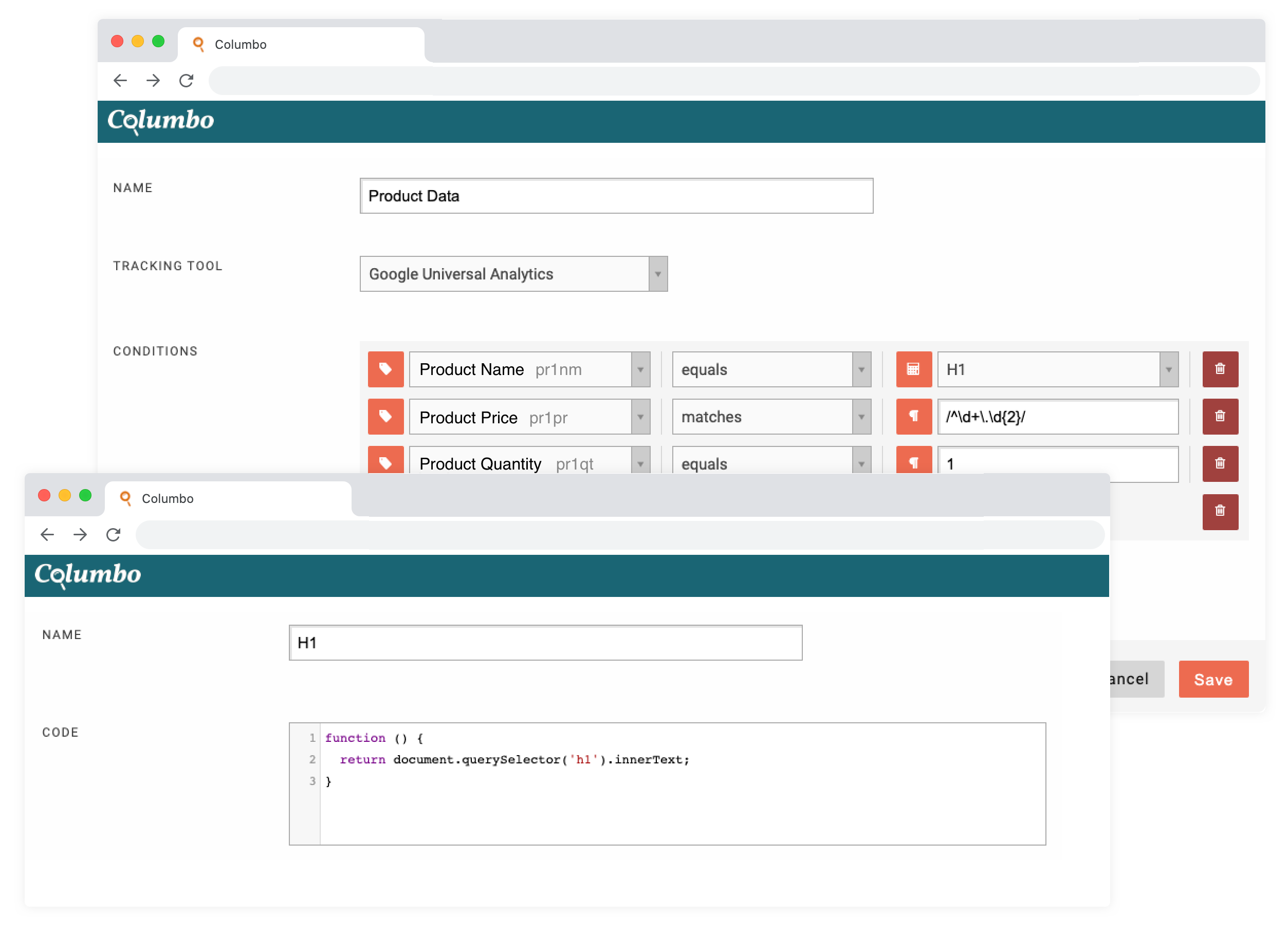 Validate Every Detail
Check Individual Tracking Parameters
Supports Hundreds of Tools and Vendors
Use Regular Expressions
Write Custom JavaScript
Improve Your Website's Performance
Columbo measures Vital Performance Metrics across all Pages of Your Website
See Where Your Website needs Improving
Compare Performance to Industry Standards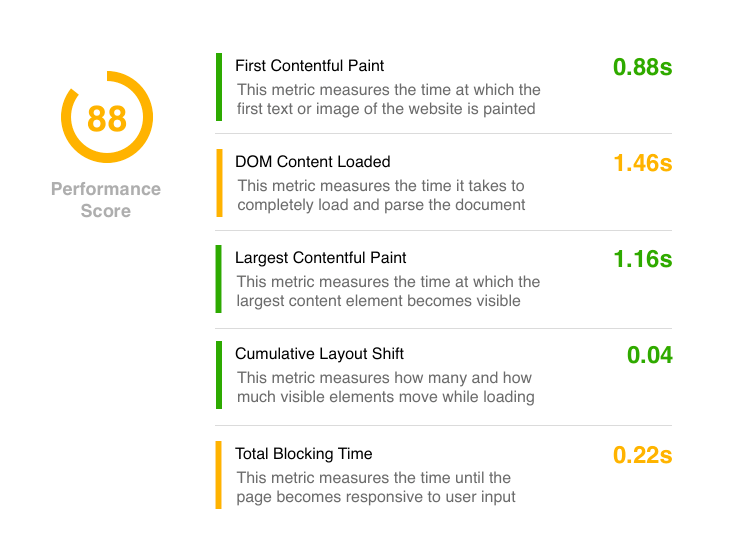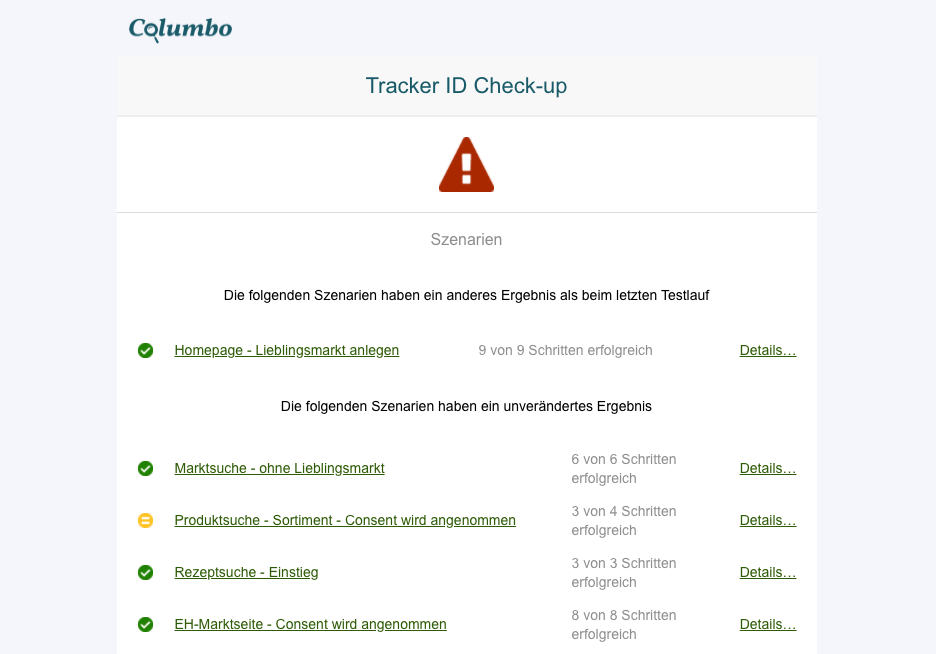 Get Notified When You Need To Act
Columbo will notify when anything breaks or changes
Focus on those Vendors and Features you are interested in
Use the API when you want to get full access on your terms
Simulate Complete User Journeys
Recreate Processes on Your Website
Build modular Scenarios to navigate, fill out forms and perform interactions
Run crucial Scenarios regularly and automatically
More Features
Customizable Dashboards
Keep your Scenarios and Audits in view by customizing your Dashboard
REST API
You can use Columbo's API to control everything and fetch any information
Evaluate Datalayer Contents
Verify all data that is pushed into Datalayers, e.g. Google, Tealium, W3C
Integrated Interactions
Common interactions like clicks or filling inputs don't require any JavaScript
Extract Website Data
Use Contents of Website Elements like Headlines to verify tracking data
Global Cookies & Local Storage
Setup common Cookies and Local Storage Items once for your entire Account
300 Tools and Vendors
Columbo will detect more than 300 different tool and vendor implementations
Run A Continuous Audit
The Audits in Columbo run continuously, around the clock, to monitor your websites
Cookie Management Platforms
Ensure your Cookie Management solution is working and covers all pages
Modular Scenarios
Scenarios can be used as building blocks for other Scenario
BasicAuth Authentication
When working with secured development environments BasicAuth can be used to authenticate
Automation via Schedules
Run your Scenarios automatically on a schedule, all without an API
Screenshots
Columbo creates screenshot of every page and any clicked element
Customized Tests
Check your most critical tracking parameters, use regular expressions as you like
Performance Score
Columbo measures extinsive performance metrics and rates you compared to your competition
Contact
Do not hesistate to contact us. We are looking forward to hearing from you.